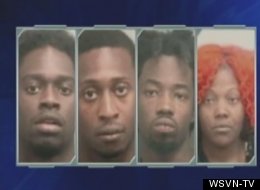 Like a lot of people at Dunkin' Donuts, they were in a rush.
Two men rushed into a Dunkin' Donuts location in Boynton Beach, Fla., with guns in hand and black t-shirts covering their faces. One of the armed robbers, identified by police as 20-year-old Actrice Alerte, ran to the drive-thru window while the other, identified as 18-year-old Abdias Jean-Baptiste, hopped onto the counter and held cashiers at gunpoint just after 9 a.m. Thursday,
WSVN-TV reported.
A 63-year-old customer tried to subdue Jean-Baptiste by grabbing him from behind, but the gunman tossed the man to the ground. To make sure the good samaritan stayed down, Jean-Baptiste stomped on his head, according to surveillance footage released by Boynton Beach Police and available below,
courtesy of NBC6 Miami.
Once the crooks grabbed about $2,000 in cash, Jean-Baptiste kicked the
older
man a second time on their way out to their getaway car, a black
Nissan Altima
. Jean-Baptiste and Alerte paired up with two accomplices, who have been identified as 21-year-old Franke Pierre-Louis and 20-year-old Ashley Silmone.