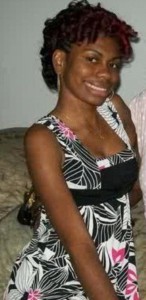 This is the young woman who died on a roadway after an apparent altercation with another driver.
Shelinda Dolores Arrington, 21, of Fairfax, Virginia, was found lying dead on a road on Friday in nearby Hybla Valley.
Police believe the woman had stopped her
Buick
LeSabre around 11.30am along Harrison Lane and got into an argument with a driver of a black
Chevrolet SUV
.
Authorities say that they believe she was run over.
But they do not have firm idea of exactly how the woman died or what had happened leading up to Ms Arrington's death.
'We don't know if the two knew each other, we don't know what they were exchanging words or got into an altercation about,' Mary Ann Jennings of Fairfax County police told WTOP.
'We don't know that it's road rage, but we're certainly not ruling it out.'
The black SUV shot off, fleeing the scene and investigators are now searching for the car, described as having temporary tags.
Another SUV pulled up at the scene to help Ms Arrington and police have interviewed its driver but that is all they have to go on so far.
She sustained traumatic injuries to her upper body and was pronounced dead at a hospital.
The cause of death was determined to be a 'crash injury.'