Stephanie Ann Broten, 38, and her partner Darnell Alan Landrum, 34, were arrested Monday night on suspicion of gross-misdemeanor malicious punishment of a child after police were called to their residence and saw a horrific scene unfolding.
Reports state that around 50 people, including dozens of teenage and young adult men, were crowded along the street watching the girl do wind sprints in nothing
more than a diaper
and tank top, according to the criminal complaint.
Officers said the girl's head was completely shaved
and she had likely been out in public for 30 minutes before police arrived, WCCO reports.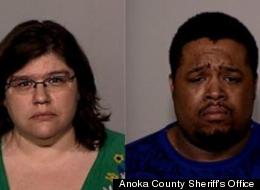 "[Broten and Landrum] told her if she didn't [earn good grades], they would shave her head and put her on 'diaper duty,' which I guess meant running up and down the street and cleaning up trash as a form of public humiliation," Monsrud told thePioneer Press. "Through the whole contact, and even on the way to jail, both were laughing and thinking it was ridiculous police would get involved in what they said was their parental decision."