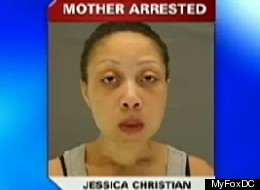 A Texas woman's quick trip to Margaritaville could leave her wasting away in jail.
Authorities say that Jessica Christian locked her 2-year-old son in a hot car outside a Tejano restaurant in Dallas while she went inside to down four fruity cocktails in under forty minutes, the
Carroll County Times reported
.
A witness called 911 after discovering the child sitting inside the car -- reportedly left with
the windows
cracked and engine off. Police arrested Christian when she returned to vehicle upon exiting the restaurant.
"It doesn't take a lot for temperatures to easily exceed 140
degrees
inside of a car," Lt. Joel Lavender of Dallas-Fire Rescue told
MyFoxDFW
.
The suspect told police that she stopped to pick up a take-out order from the restaurant, but a receipt obtained from the bartender showed that
Christian purchased four margaritas
.
Christian's son was sweating and dehydrated when police freed him from the car. He is expected to make a full recovery.