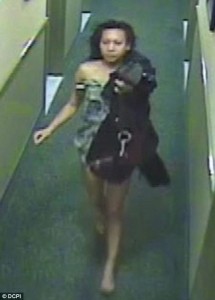 The New York City Police Department is asking for the public's assistance in finding a prostitute who they say stole over $500,000 worth of precious jewels from her John's hotel room.
Gem trader Kurt Kaiser, 47, said he met Erika Cooper, 34, innocently enough at the end of a rough day at the Whiskey Bar on Central Park South on April 17.
The two ended up back at his hotel, where they had sex and he passed out, allowing her to slip out with his stash of diamonds.
Kaiser met Cooper late Tuesday night, where he was drinking heavily after he lost out on a deal to sell his stones, according to the New York Post.
Cooper zeroed in on her mark, chatting up a drunk Kaiser and then proposing the two go to the Cosmopolitan Hotel in Tribeca to get a room.
'I was sitting by myself having a last vodka and soda, and she came up and asked, 'Mind if I join you?' I said: 'Hell, yeah!' he told the Post.
Kaiser told the paper that before they got to the room, they stopped at a CVS store where she used his
credit card
to purchase a $500 gift card and a box of condoms.
Then they went off to the Cosmopolitan, where they sealed the deal and had sex. Unfortunately for Kaiser, he fell asleep first.
The Mark: Erika Cooper, 34, of Manhattan, met Kurt Kaiser, 47, in the Whiskey Bar on Central Park South on April 17, before suggesting they head over to the Cosmopolitan Hotel in Tribeca
A Girl's Best Friend: Surveillance footage from the hotel shows Cooper running barefoot through the halls with Kaiser's briefcase
Cooper grabbed his briefcase full of uncut diamonds, the
certification
documents, his passport, watch and sunglasses.
'It's the dumbest thing I've ever done in my life,' he said.
Police want Cooper for grand larceny, but say they will not charge Kaiser for soliciting a prostitute.
An NYPD spokesperson told the Mail Online that they had no idea about the $500 payoff.
'The victim never told us that,' the spokesperson said, likening
the gift card
purchase to a man buying dinner for a date.
Police added that Cooper, a Manhattan resident, also goes by the name of 'Bianca Williams.'
She's approximately 5'9″, weighs 120 lbs.,and has brown eyes and black hair.
Kaiser is offering a reward for his missing jewels.
'If she gives them back, I probably won't press charges,' he said. 'She can have someone drop them off at the 1st Precinct.'